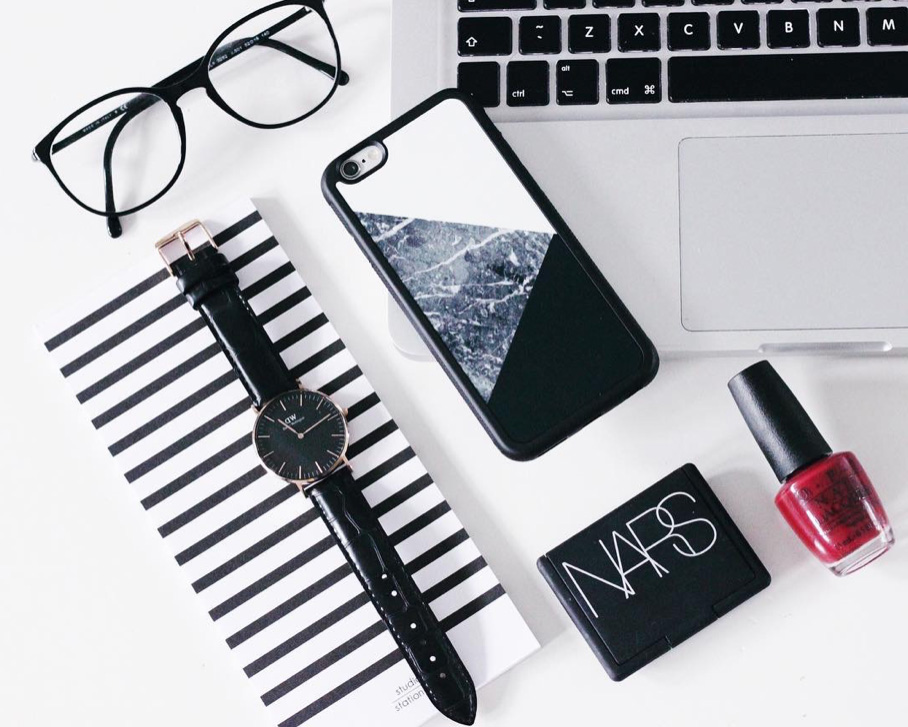 The five most beautiful photos of February
This pretty flatlay photo is by fashion blogger Loïs. We're big fans of the nice colours and especially the composition of this photo. Loïs has made this photo just a touch more girly with the pink details. Don't think we didn't notice. Way to go!
You can find this smartphone case in our collection 'Quotes'!

Buy this case here.
Hannah went for a marble print for her iPhone 6s case. She took this pretty outfit picture while holding a lovely case in her hand. Nice lighting is quite difficult to achieve but once you get the hang of it your photo's will never be the same. Pretty nails, white sneakers and a ripped jeans, it couldn't be better.
Personalize your own case and put your name or logo on it. Choose a marble print from our collection!
But first coffee… A very popular phone case from our collection. Aurélie from France picked this design as well because she's a real caffeine junkie . A photo with a cup of coffee is a great finishing touch. Aurélie pays attention to details and you'll notice this when you check out her Instagram. Check out our other "Food" designs.
Buy this design here.
Do we have a weak spot for good-looking flatlays? No! Why do you ask… . Blogger Tedje took this cute shot. Make-up, a nice watch and a lovely geometrical marble printed case for her iPhone 6 and the picture's perfect. Great lighting and shadows included. She's on a roll 😉
You can buy this marble design here.
Last but not least… Lace and fur! The French Instablogger Barbara combines her patterned iPad case with a flawless setting. Playing with black and white contrasts gives lots of likes as this picture shows.
This nice pattern case is available on our website.